Coastal Medical Clinic & Dr. Smolenski ::. Myrtle Beach, SC
Dr. Smolenski is fellowship trained and certified by the American Board of Anti-Aging and Regenerative Medicine. He specializes in bioidentical hormones, bioidentical hormone therapy (HRT), nutrition, fitness, and preventative and integrative age management programs for women and men suffering from menopause, andropause and all other medical conditions.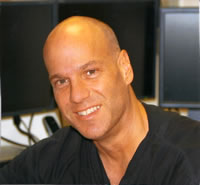 Coastal Medical Clinic is an integrative medical facility located in Surfside Beach along the beautiful Low Country of South Carolina. It is centrally located and just minutes away from Myrtle Beach, Murrells Inlet, Pawleys Island, Conway and Georgetown SC. We specialize in Bioidentical Hormones, Men's Testosterone Therapy, Women's Menopause / Perimenopause, Fitness and Weight Loss, and Anti Aging, Regenerative and Functional Medicine.
Anti Aging Medicine is a clinical/medical specialty in the field of scientific research aimed at the early detection, prevention, treatment, and reversal of age-related decline. It is well documented by peer-reviewed medical and scientific journals and employs evidence-based methodologies to conduct patient assessments.
Regenerative Medicine is a new branch of medicine whose aim is regenerating damaged tissues and organs in the body by stimulating previously irreparable organs to heal themselves. It attempts to change the course of chronic disease and in many instances will regenerate tired and failing organ systems. Adult stem cells appear to be our most powerful tool at this time. Current medical literature proves that adult stem cells exist in most tissues including brain, heart, muscles and liver. Hematopoietic stem cells (HSC) and endothelial progenitor cells (EPC) in the bone marrow have plasticity to potentially transform and repair all tissues and organs.
By using hormone replacement therapy (HRT) Dr Smolenski is optimizing the body's own natural stem cells. Progesterone via its metabolite allopregnenolone stimulates neural stem cells. Testosterone stimulates muscle stem cells and EPCs which can improve erectile function. Growth Hormone treatment for adult growth hormone deficiency improves the quantity and quality of EPCs. Estradiol improves incorporation and mobilization of EPCs.
In the lifestyle component of Anti Aging Medicine Dr Smolenski is optimizing adult stem cells with exercise and control of glucose and insulin. In the neutraceutical component of Anti Aging Medicine Dr Smolenski is optimizing adult stem cells with agents such as Resveratrol as we turn on genes such as SIR1, and with green tea and vitamin D3. DHA in omega 3 fish oil promotes neurogenesis from neuronal stem cells.
Functional Medicine is an integrative, research-based healthcare approach that treats illness and promotes wellness by focusing on the bio-chemically unique aspects of each patient, and then individually tailoring treatment plans to restore physiological, psychological, and structural balance. Dr Smolenski focuses on the individual's unique physiological processes, the environmental inputs, and the genetic predispositions that influence health and disease. Dr Smolenski' interventions will treat the cause of the problem, not just mask the symptoms. The body's hormonal and physiological systems have a complex web-like interconnection which is much like a "symphony" - when the body's "instruments" are finely tuned and playing together in harmony there will be beautiful music.
The American Academy of Anti-Aging Medicine was established in 1992 as a professional physician certification and review board, which offers physician recognition in the form of specialty-based examination in Anti-Aging Medicine. It represents 20,000 physicians, scientist, health professionals, and the health minded public from 80 countries worldwide.
LATEST HOT HEALTH TOPICS
Are you getting enough Vitamin D?

Thirty percent of Americans use vitamin and mineral supplements every day. Yet most adults have low vitamin D levels with an estimated 10 million Americans over age 50 d ...

read more
---
Low Testosterone in Men: Increase Risk of Death

There really is a male version of menopause, often called andropause. It is not as pronounced as the menopause experienced by women, but it is none the less real. Men do ...

read more
---
Health Benefits of Fish Oils

Scientists first learned about the many benefits of fish oils in the 1970s when they observed that Greenland Eskimos had very low rates of heart disease despite a diet hi ...

read more
---
if (strtolower (basename($_SERVER['SCRIPT_NAME'], '.html')) == 'index' || strtolower (basename($_SERVER['SCRIPT_NAME'], '.php')) == 'index' ) { $nofollow = ''; } else { $nofollow = 'rel="nofollow"'; } ?>